FOR IMMEDIATE RELEASE:
CONTACTS:
February 14, 2012 Andrew Stevenson, Co-President
Chuck Preble, Vice-President
Peninsula Trails Coalition
Peninsula Trails Coalition
360-928-0276/360-461-4286 cell
360-683-4549/360-460-1220 cell
PTCPrez1@OlympicDiscoveryTrail.org
ChuckPreble@msn.com
Olympic Discovery Trail, vision in jeopardy
Recent notice, impending deadline could create major problem for trail connection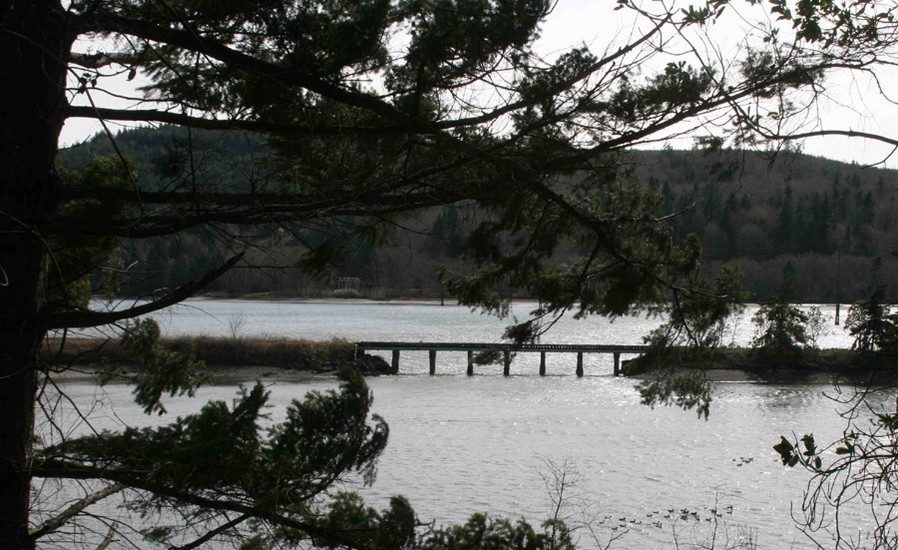 The vision of the Olympic Discovery Trail as a continuous recreational trail from Port Townsend to the Pacific Ocean is threatened due to the short time span between a Washington Department of Fish & Wildlife (WDFW) announcement last fall and an existing spring schedule deadline for the state's estuary restoration project along Discovery Bay. The WDFW decision to remove a trestle and lower the adjacent historic railroad grade that trail proponents had hoped to use for the Olympic Discovery Trail north of Highway 101 was announced just last fall as part of the final planning stage for the state's estuary restoration efforts on Discovery Bay. The Peninsula Trails Coalition (PTC) was aware that most of rail grade had to be removed, but it was only as the details and results of environmental studies and planning were available that it became clear that removing a specific section that included an existing short trestle along the west end of Discovery Bay was necessary to meet restoration goals. This means a new route for the trail closer to Highway 101 needs to be established, designed and integrated into the state's estuary project and done within a very limited time frame, to meet an already scheduled March 31st restoration project deadline.

RIGHT:

Discovery Bay rail trestle to be removed / Image courtesy Peninsula Trails Coalition
Although the Jefferson Trails Coalition and their parent organization, the Peninsula Trails Coalition (PTC), are working cooperatively with the North Olympic Salmon Coalition, the entity overseeing the project on behalf of WDFW, existing budget problems prevent Jefferson County from providing personnel or funding at this critical time period. This means all needed funding to complete the necessary design phase for trail and restoration project integration must come from other sources.

The PTC has already committed $10,000 of their own existing funds to determine the feasibility of the route, but the design phase portion is estimated to cost another $35,000, and the group is actively pushing to reach that goal by March 31st.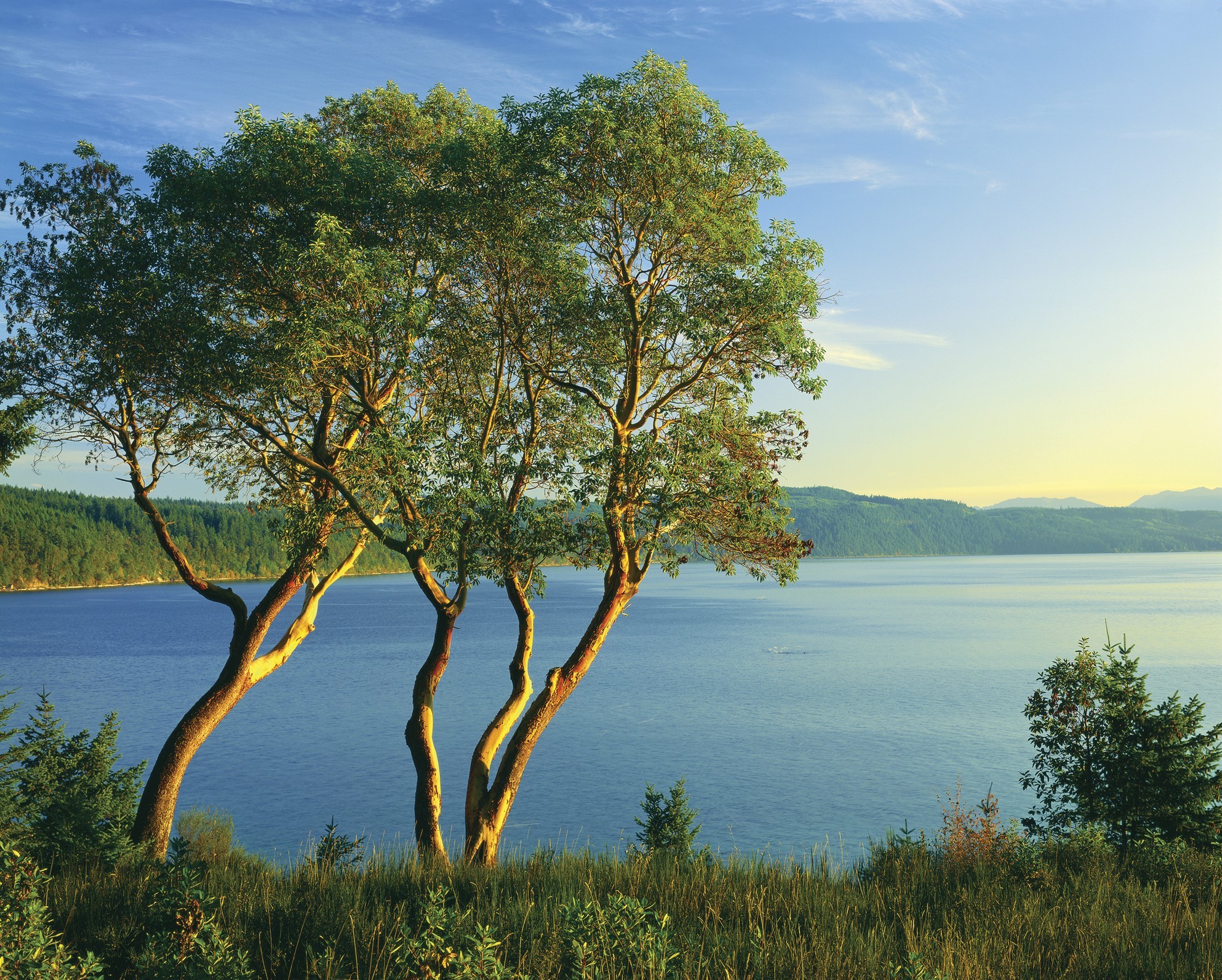 "The design phase for the first portion of this route, on the west side of the estuary, must be completed this spring in order to meet restoration schedules and be included in the permitting process," notes Andrew Stevenson, Peninsula Trails Coalition Co-President. "If we miss this window of opportunity then it will be practically impossible to obtain the required permits and environmental mitigation credits later."

Also according to Stevenson, any alternative route for the trail would require two hazardous crossings of Highway 101, an easement through developed land, and permits through the environmentally sensitive Salmon Creek area, again, for all practical purposes, impossible.

"We have defined a cooperative program to develop the trail design and integrate it into the larger project, and working together with the North Olympic Salmon Coalition, we have contracted with Parametrix, a Pacific Northwest company, to get the job done," notes Stevenson. "But completing the design of the west side trail section in concert with the rest of the restoration plan is critical. We must either meet this schedule or give up the idea of safely connecting the Port Townsend end of the trail with Sequim, Port Angeles and other western portions of the Olympic Discovery Trail."

LEFT:

Discovery Bay with Madronas / Image courtesy of and © Ross Hamilton

Peninsula Trails Coalition board members and leading trail supporters in the Jefferson Trails Coalition pledged a $7,500 challenge match, and support from a recent special fund-raising event and direct mail campaign recently met and exceeded the match with $8,800. That's $16,300 of the needed $35,000, close to half the total needed, but $18,700 still needs to be raised over the next 6 weeks, an average of close to $400 per day by March 31st.



"We've been working on this trail for over twenty years. Community support has gotten us a long way in making the dream a reality, and community support, both locally and statewide, is needed now more than ever to keep the dream alive," added Stevenson.

Contributions are tax-deductible and may be donated either online at OlympicDiscoveryTrail.com or by check to the "Peninsula Trails Coalition" and mailed to the organization at PO Box 1836, Port Angeles, WA 98362.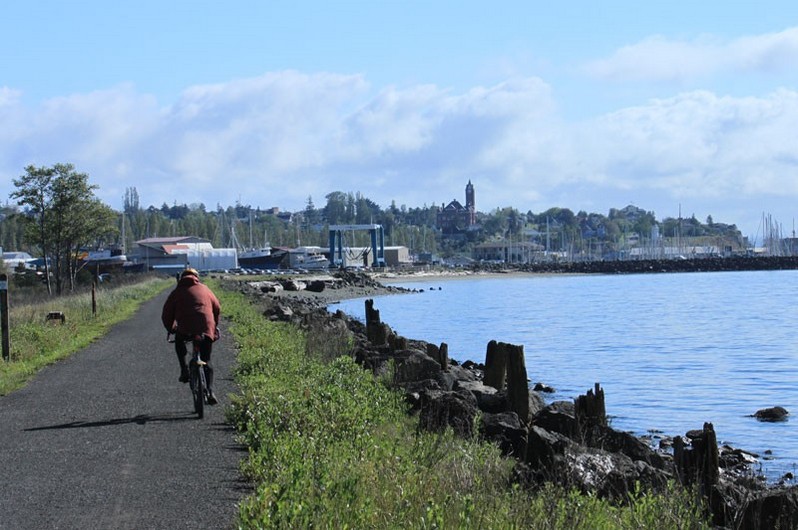 The vision for the route of the Olympic Discovery Trail (ODT) is to travel 120 plus miles of lowlands, bordered on the south by the Olympic Mountain Range and on the north by the Strait of Juan de Fuca. It begins in the Victorian era seaport of Port Townsend connecting west through Sequim and Port Angeles and will end on the shores of the Pacific Ocean. Existing trail sections wind through fields and farms, parks and towns; over creeks, rivers and ravines on restored railroad trestles; and past beaches and national recreation areas. The current paved pathway designed to accommodate bicyclists, hikers, and disabled users includes a 4' shoulder for equestrians where appropriate, and offers a wide diversity of fauna and flora and scenic beauty given the Olympic Peninsula is filled with majestic views of snow capped peaks, ocean vistas, fast flowing rivers, pristine lakes, and the temperate rain forests of the Pacific Northwest.



RIGHT:

Olympic Discovery Trail section in Port Townsend / Image courtesy of the Peninsula Trails Coalition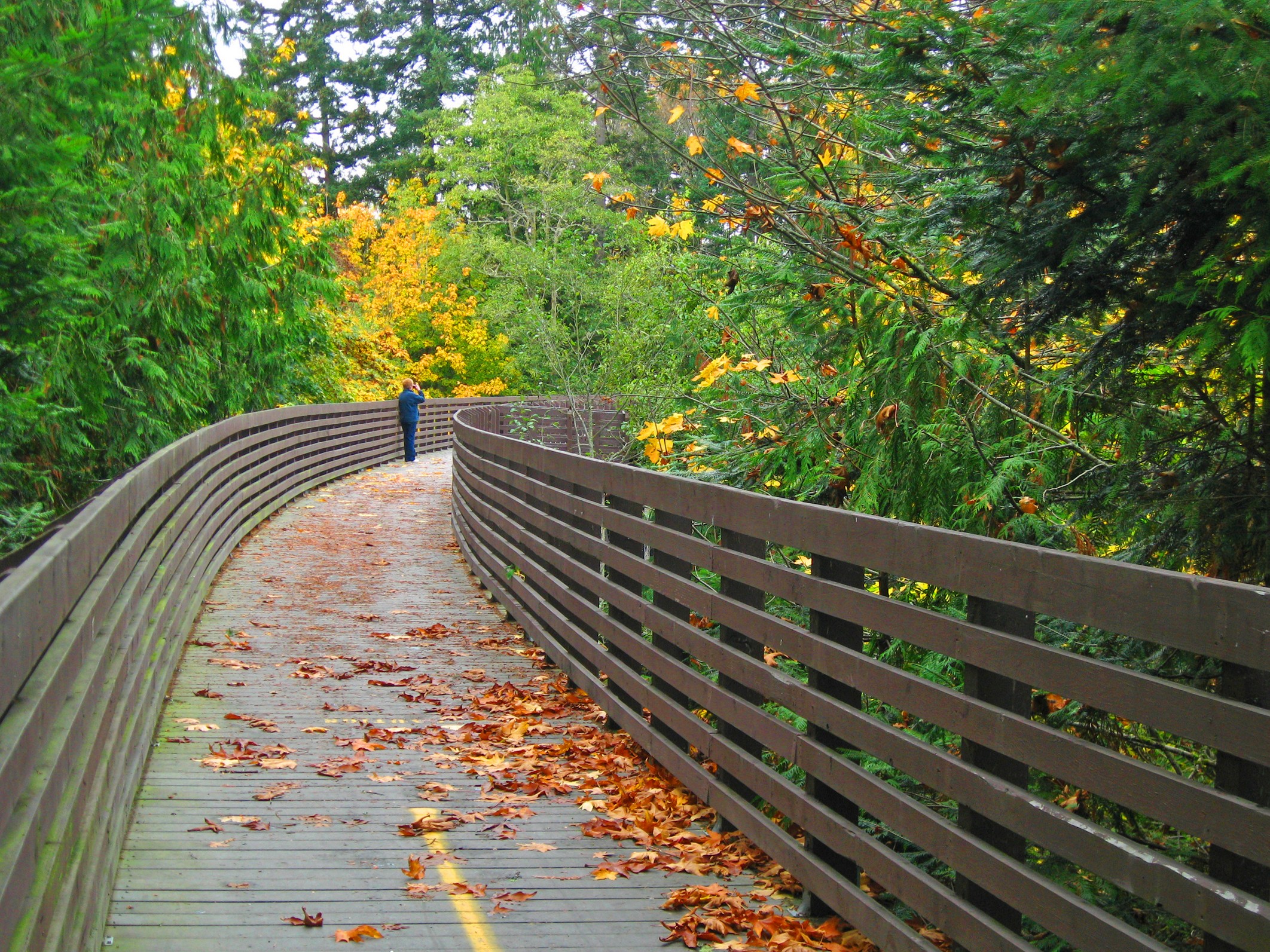 The Peninsula Trails Coalition is a non-profit organization and dedicated to developing, protecting, maintaining and enhancing the envisioned 126-mile Olympic Discovery Trail from Port Townsend to LaPush, WA.

Existing trail sections provide recreational access for cyclists, walkers, equestrians and people with disabilities. The organization has helped develop over 40 miles of separate paved path, placed tables and benches, and installed and maintained portable restroom facilities. Completed sections are expected to total 53 miles during 2012, with right of way agreements in place for over 65 miles. The organization is managed by, and much of the trail work is done by dedicated volunteers.

For more information and how you can support the trail visit the organization's OlympicDiscoveryTrail.com website.


LEFT:
Olympic Discovery Trail section east of Sequim / Image courtesy and
© by Ross Hamilton
IMAGES WITH CAPTIONS ABOVE WITHIN THE PRESS RELEASE ARE AVAILABLE FOR FREE USE
WITH PERMISSION GRANTED TO USE THEM RELATIVE TO THIS STORY BY THE PRINT MEDIA.
THEY MAY BE CROPPED, COLOR-BALANCED AND DIGITALLY MODIFIED AS NEEDED

.
Resolution for PTC images is 200dpi, Ross Hamilton image is 300 dpi.
PLEASE CREDIT THE SOURCE AS SPECFICALLY NOTED IN EACH IMAGE USED.
CONCEPT IMAGES BELOW ARE FOR INFORMATIONAL PURPOSES ONLY
,
SINCE THEY MAY BE

SUBJECT TO COPYRIGHT RESTRICTIONS

. . .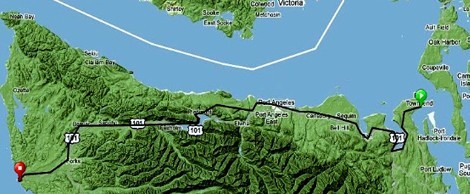 Olympic Discovery Trail
General Route Concept:

NOTE:

This image below provided solely for informational purposes

,
and

its use elsewhere may be subject to copyright restrictions

.
Port Townsend

Discovery Bay

Sequim

Port Angeles

Lake Crescent

Forks

LaPush
Concept Map with Route Detail for the Discovery Bay section

(below) as referenced in the above release with picture of trestle to be removed.


Yellow line indicates trail reroute currently envisioned.


NOTE:

This image below provided solely for informational purposes

, and

its use elsewhere may be subject to copyright restrictions

.