"To everything there is season," says Al LePage, who previously did one-man shows of Dickens' classic story over the years at Longfellow's Wayside Inn, "but a time to perform and a time to quit isn't how I wanted things to end. Performance with passion and purpose had always been my mission and the purposes especially involved generosity. And I didn't just want to raise money for charity, I wanted to give people the opportunity to be generous, I wanted to cultivate and encourage others to give. Give of their time, their talents, their resources, and their financial support, too. And, I wanted to preach about generosity and what better story during the holidays than Dickens' Christmas Carol."
"Other priorities were pulling me in different directions," continues LePage, "and that meant it was time to finally stop doing the show. But local and area food banks typically received the bulk of funds raised over the years, so how, especially since the funds helped to feed people, how could I keep things going without me. One answer seemed to be in finding a local area theater group, and in the end I found only one that really seemed to fit the bill. Cinderella couldn't have done better," smiles LePage," since the shoe not only seemed to fit well, but somehow kept fitting even more perfectly as things unfolded."
LePage discovered The Sudbury Savoyards, a locally based theater company, found the board chair's phone number online, and made the call.
"Al's quite a salesman," says Tom Powers, vice-chair of The Sudbury Savoyards, "but as I listened to his passion and sincerity his idea really seemed to have potential. I presented it to the board at our next meeting and people liked it. So things continued to evolve from there, and we not only met at my home in Hudson, to ice the deal Al actually offered and gave a special living room performance of his one-man show to me and a few other people connected with The Savoyards."
"But there's even more," LePage excitedly says! "This theater company is also devoted not only to helping feed people, they also have a connection with a very special food pantry to me, A Place to Turn. It's in Natick, right next door to Framingham where I was born and grew up before moving to the west coast as a young man. So raising money with my past shows for this food pantry at both the Wayside Inn and Parker House was my way of giving back to the community where I came from. And now, passing the baton to the Savoyards means the pantry will still be helped. It's like winning the lottery," says LePage, "and what are the odds of that?"
"The Sudbury Savoyards," says Kathryn Denney, Producer, "believes that in community theater, the community part and the theater part are equally important. Charity has always been an important element in our work. The Savoyards have donated more than a quarter million dollars to world hunger relief over the past three decades through the United Methodist Committee on Relief. We want to continue to help the hungry, and our Christmas Carol performances this year will also help to make that happen."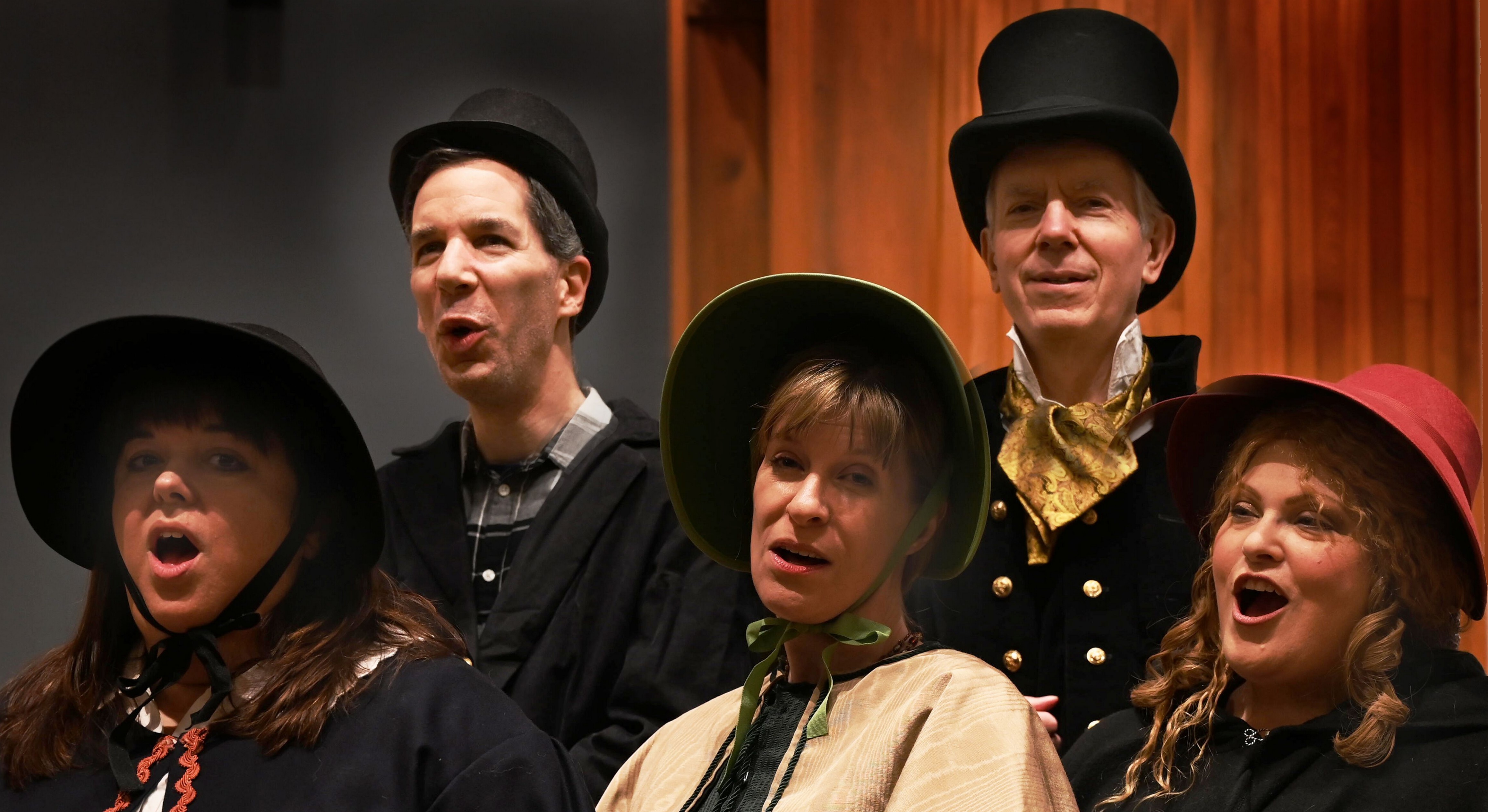 Twenty-six timeless characters will be created by only six actors in a fresh script adapted by director Paul Dixon. There's live music with singing and sound effects included in the show, along with special treats and apple cider at intermission. At least one audience member will also receive a special gift at every performance. The production is also live theater and one never knows what will happen at any moment in any show, which means each one is unique. All shows also happen in historic venues, both the classic Martha Mary Chapel of Longfellow's Wayside Inn and the Press Room of the luxurious Omni Parker House. Banish the bah-humbug spirit with the Sudbury Savoyards for a performance with purpose.
"Banishing the bah-humbug spirit!"
Image courtesy of The Sudbury Savoyards
"I'd really love to be at their very first performance," says LePage, "but like a pastor who retires there needs to be an immediate break from the congregation. The new pastor needs to establish themselves and forge their own unique relationship with the flock. I definitely plan on seeing their production sometime in the future," notes LePage," but The Sudbury Savoyards need to make it their own unique show and create their own special magic with their audiences. I'm very lucky – we're all very lucky – that they are embracing the tradition of doing this show and the legacy of generosity, too -- I'm very thankful, too. There's a time for every purpose under heaven," ends LePage, "so dare I say, 'God bless us . . . every one!'"
#####

The Sudbury Savoyards
is a nonprofit community theater organization founded in 1961 in Sudbury, Massachusetts and specializes in performing the light operas composed by Gilbert and Sullivan. They perform Gilbert and Sullivan shows as "Theater on a Grand Scale," with casts as large as sixty or more people, a full orchestra of as many as thirty pieces, and full staging, costuming, and lights. They also produce smaller-scale shows and participate in community events like parades and public festivals. As a volunteer organization, those involved do not receive financial compensation. Donations and gifts to The Savoyards qualify for deductions as charitable contributions for tax purposes. For more information about the organization and their shows visit www.SudburySavoyards.org or call 781-369-5992.

Longfellow's Wayside Inn
is a Massachusetts Historic Landmark and the oldest Inn in the United States, continuing to provide food and lodging along-side the old Boston Post Road since 1716. As a 501(c)3 non-profit corporation, the Wayside Inn is dedicated to the preservation of its 125-acre historic campus and outbuildings, which include the old Howe Tavern, the Martha Mary Chapel, the Redstone School, and the world famous water-powered Wayside Inn Grist Mill. Countless individuals, school groups and civic organizations take advantage of the property's educational programs each year, which focus on the site's colonial past as well as its more recent history as the country's first living history museum while under the ownership of industrialist Henry Ford from 1923 to 1945. The site is funded with revenue generated from its restaurant and overnight guest rooms, fundraising initiatives, corporate and public donations, through historic preservation grants, and their own Historic Site Preservation Fund. The Wayside Inn Historic Site is on the National Register of Historic Places. For further information, visit www.Wayside.org or phone 978-443-1776.

A Place to Turn
is a non-profit organization that has been serving the needs of the Metrowest community since the late 1970's. The emergency food pantry was created by a group of local residents troubled both by poverty and the lack of emergency assistance in the local area. It has and continues to provide emergency groceries and clothing to individuals and families in need. Funding and support come from many sources,
with food donations from a wide variety of groups and local businesses, and financial assistance from individuals, corporations and foundations.
People can participate in a variety of ways and besides much appreciated financial support, the organization also values the time and talents of volunteers, plus donations of non-perishable food and other essential items
. Celebrating 40 years of service to the community and helping over 13,000 people in over thirty cities and towns in MetroWest in 2019, the majority of clients are from Framingham, Marlborough, and Natick.
For further information, visit their webiste at www.APlacetoTurn-Natick.org or phone (508) 655-8868.
The Omni Parker House
, founded by Harvey D. Parker in 1855, is the oldest of Boston's elegant inns and the longest continuously operating hotel in the United States. It boasts old-world charm and elegance accompanied by all of the modern conveniences of a world-class establishment. Nestled in the heart of historic Boston, it's located along the Freedom Trail at 60 School Street. In addtion to their bar, they also have the award-winning Parker's Restauran, the birthplace of Boston Cream Pie and Parker House Rolls. It offers guests a superb culinary experience and exceptional personal service. For further information, visit www.omnihotels.com/hotels/boston-parker-house or phone (617) 227-8600.
The Greater Boston Food Bank
(GBFB) is the largest hunger-relief organization in New England and among the largest food banks in the country. In 2016, they distributed more than 57.7 million pounds of food, equivalent to 48.1 million meals. Through their network of partners, 142,000 people ate something from GBFB each month, creating a compassionate and sustainable solution to hunger.
One in eleven people in Massachusetts struggle with hunger
.
You can learn more about the GBFB and help make a difference in the fight against hunger by visiting their website at www.gbfb.org or by calling 617-427-5200.
_____________________________________________________________________________________________________
NOTE TO MEDIA:
Embedded images are offered for free use by the print media
for stories related to these performances and may be cropped and color-balanced as needed.
CAPTION ALTERNATE SUGGESTION for IMAGES:
One great story, six actors, twenty-six characters, lots of laughter, and hopefully some tears, during The Sudbury Savoyards'
performances of Dickens' Christmas Carol.